The goal of this website is to be a safe for souls website advancing Catholic thinking and education. When editing, please adhere to the Content Standards.
Some images have been enhanced for teaching purposes and may not be identical to the original artwork.
Main Page
From The Work of God's Children
Habemus Papam! God Bless Pope Francis !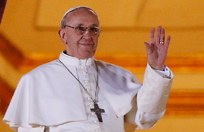 Welcome to The Work of God's Children's Educational Project!
View the newest project - The Liturgical Calendar for A.D. 2013

- with colorful pictures and black and white coloring page pictures making it easier to understand and spread The Good News. The following is an example of what will be found in The Liturgical Calendar. This will be an ongoing project to which we will be continually adding. So, check back frequently for new pictures. Click on the picture to see a larger printable version. Click on the blue links (Pentecost / The Most Holy Trinity) to see all the pictures in each category.
Black and white coloring book pages may be available by clicking on the blue links.
2013 May 1 Wednesday: Easter Weekday - white vestments
Saint Joseph the Worker - white vestments
Acts 15:1-6
Ps
John 15:1-8 (287)
or, for the Memorial,
Genesis 1:26—2:3 or
Colossians 3:14-15, 17, 23-24
Matthew 13:54-58* (559)
When there had been much disputing, Peter, rising up, said to them, "Men, brethren, you know that in former days God made the choice among us, that by my mouth the Gentiles should hear the Word of the Gospel and believe.
Acts 15:7-21

"If you keep My commandments, you shall abide in My love, as I also have kept My Father's commandments and abide in His love.
John 15:10
2013 May 2 Thursday: Easter Weekday - white vestments
Saint Athanasius, Bishop and Doctor of the Church - white vestments
Memorial
Acts 15:7-21
Ps 96:1-2a, 2b-3, 10
John 15:9-11 (288)22
Now I make known unto you, brethren, the gospel which I preached to you, which also you have received and wherein you stand.
1 Corinthians 15:1

Philip said to Him, "Lord, show us the Father, and it is enough for us."
John 14:6-14
2013 May 3 Friday: Saint Philip and Saint James, Apostles - red vestments
Feast
1 Corinthians 15:1-8
Ps 19:2-3, 4-5
John 14:6-14 (561) Pss Prop
As soon as he had seen the vision, immediately we sought to go into Macedonia: being assured that God had called us to preach the Gospel to them.
Acts 16:1-10
2013 May 4 Saturday: Easter Weekday - white vestments
Acts 16:1-10
Ps 100:1b-2, 3, 5
John 15:18-21 (290)
It had a wall great and high, having twelve gates, and in the gates twelve angels, and names written thereon, which are the names of the twelve tribes of the children of Israel.
Revelations 21:12

Judas, not the Iscariot, said to Him, "Lord, how is it that You will manifest Yourself to us, and not to the world?"
John 14:21-26
2013 May 5 SUNDAY: (Sixth Sunday of Easter)
- white vestments
Acts 15:1-2, 22-29
Ps
Revelations 21:10-14, 22-23
John 14:23-29 (57) Pss II






View the second newest project - The Life of Our Lord Jesus Christ - portraying the landscape, people, clothing, architecture, and customs of people in Jesus' time.
The Freedom Curriculum, a totally free public domain curriculum for home-educators
These subjects are formatted for unit studies. This involves a different curriculum plan than is generally used for initial academic studies, but is similar to the methods used for higher education.
---
About The Work of God's Children
The Work of God's Children was started in 2004 to promote the advancement of Catholic thinking and education. Four ways we do this are through a public domain illustrated Bible, free public domain educational materials, a public domain encyclopedia/dictionary, and a public domain image gallery.
The public domain illustrated Bible project makes the Word of God available without charge, with a primary focus on making it suitable for a children's picture / coloring book Bible. It can also be used in home education or home schooling curriculum, religious education, catechetical instruction, and for missionary work.
The free public domain educational materials are part of a project to form a free curriculum for home education, homeschooling families, parents, students, children, teachers, religious education, those using the Montessori method, and those preparing for and doing missionary work.
The public domain encyclopedia/dictionary is a growing collection of articles that can be used for all ages; its content is designed to be "safe for souls."
The public domain image gallery is a collection of a wide variety of totally free images that we have complied for use in our other projects.
Want to help out? We certainly appreciate your prayer support. Without the help of God and your prayers, we would not have been able to offer The Good News free of charge.
If after praying, you feel led to support this ministry financially, we would greatly appreciate that also! (Just press the Donations key- The Work of God's Children:Site support on the left.) Please know that all of you who access our site are in our prayers.